Become a Friend & Patron of AroVideo for 2018!
Patron Pack (Friend of AroVideo)
$100
Deluxe Patron Pack (incl. T-Shirt)
$140
Annual Subscription (Patron)
$495
Patron Pack (Annual Sub. upgrade)
$75
Your basket is empty
Annual Patron Options
PATRON PACK (Annual Support Patron):
$100
Purchase a Patron Pack to become a "Friend of AroVideo" and receive the following goodies and benefits:
$15 discount off Seasonal Subscriptions or $5 off 10-Trip Concession Cards*.
An AroVideo Certificate of Patronage.
An exclusive AroVideo carry-bag, a big bottle of Garage Project Aro Noir Beer , a heavenly pizza from Hell Pizza, and 2 tickets to the beautiful Roxy Theatre in Miramar.
Exclusive Invitation to special AroVideo patron film previews and social events.
Personal or Business/Organisation Name on this online Patron page (optional).
"Adopt-a-movie" naming rights and free rentals forever of either a film favourite or a title you'd like to see added to our rental library.
Notes: A $10 surcharge is applied where delivery is required. The Patron Pack is available only to persons 18 years and over.
DELUXE PATRON PACK:
$140
The standard Patron Pack & Benefits (as above) + AroVideo T-Shirt (valued at

$59.95

).
Annual Patron Subscription:
$495.00
Become a "Friend of AroVideo" with the standard Patron Pack + UNLIMITED IN-STORE RENTALS for 12 MONTHS.
Patron Pack (Annual Subscriber Upgrade):
$75.00
This discounted Patron Pack is available to members who wish to upgrade their Annual Subscription to an Annual Patron Subscription.
How will your patronage help? Let us count the ways...
Develop our library of 23,000 titles to be ever-expanding and better than it ever was.
Maintain our staff levels for the best possible expert service.
Restore our shop floor and website to its fullest glory.
Further develop our website to be fully compatible on mobile devices.
Help retain the vitality and diversity of local street culture and small business.
Want to become a friend? Here's how...
Choose from one of the Patron options by clicking one of the pink [buy] buttons at the top of this page. This will add the item to your shopping basket, or if you are not already logged in, you will be asked to log-in or open a 'My-Aro' online account. Once you have done this, then click [checkout] to proceed to the online checkout.
Pay by Visa/Mastercard/Amex or by direct internet transfer, or by Cash/Eftpos in-store.
You will receive an order confirmation of your purchase by e-mail as proof of purchase. Your exclusive Patron Pack must be picked up from our store, however please e-mail us if you would like us to arrange special delivery.
Don't have a My-Aro online account?
Open one here and remember to have your membership number handy (if possible) so that we can synchronize to your in-store membership.
More info required?
If there's something that we haven't covered here, please don't hesitate to drop us a line or e-mail.
The AroVideo Friend Zone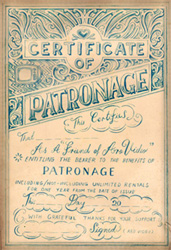 We invite Friends to declare their support and also share their skills and interests with others in the AroVideo community. However, we understand publicity is not for everybody, and will always ask before publishing your personal name.
If you are a Friend and would like your details added, edited or deleted from the list below, please e-mail us with the specified changes.
AroVideo Patrons and Friends for 2016/17:

| | |
| --- | --- |
| Roxy Theatre | Luxury Picture House & Coco Restaurant |
| Aro Cafe & Coffee | Neighbourhood Hang-out & Roasters |
| Hell Pizza | NZ's own devilish, delicious pizza |
| Brazen Clothing | Screenprinting Specialists |
| 31 Days In | Illustrator of the AroVideo T-Shirt & Carry-bag |
| Stephen Templer | Designer of the AroVideo Patron Certificate |
From AroVideo, a big, blushing thank you to you all!
By the way, if you are a local business and would like to become a future AroVideo Patron Sponsor or include cool products in our goodie bag, please get in touch!